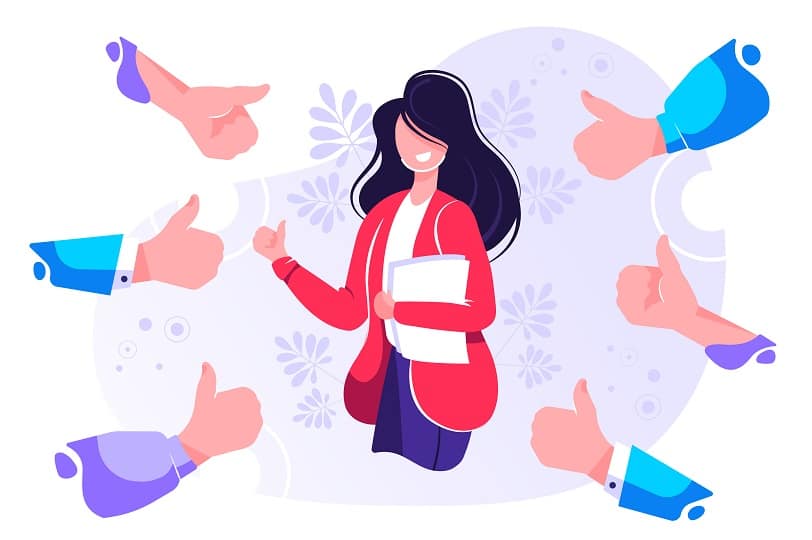 A positive brand image is essential for any business' success. Even the slightest bit of bad press can have a detrimental effect on your bottom line. With Google's watchful eye analysing every move you make and ranking you accordingly, you'll want to make sure your brand is getting as much positive exposure as possible.
Whether you're building your brand's online reputation from the ground up or doing some damage control from a failed campaign, you'll find exactly what you need to boost your image when and where it matters most.
Here are 10 steps to create and maintain a positive brand image.

1. UNDERSTAND YOUR TARGET MARKET
Your customers are the lifeline of your company.
Begin by analysing your offering. For each of your products or services, make a note of the benefits those products or services are providing to customers.
For example, imagine you're a rental car agency that offers additional liability insurance. The benefit is peace of mind while travelling. Now you can focus your efforts on those who need that benefit, such as middle-class families with children.
Next, do some competitor research.
What customers are they targeting? Try to go after a different niche. If this is impossible, find out their unique selling propositions, how they are communicating with their customers, and what you can improve on and do differently.
2. Develop a strong brand identity and messaging
Before you can generate a positive brand image, you need to create a strong brand identity.
Evaluate what makes your brand unique. What are your Unique Selling Propositions (USPs)? What is your company's mission and core values?
Once you establish your identity you can begin to create the appropriate messaging to reach your customers.
Let's assume you're the car rental agency. You've already established that one of your target markets is middle-class parents who like to take family road trips. You've also established your USP to be a tow-truck service that goes above and beyond the call of duty, promising to reach stranded drivers in less than 30 minutes.
Now you can tailor your messaging. You may launch a commercial with a family of four whose holiday is almost ruined by a flat tire in the middle of a motorway, but are saved thanks to the friendly tow-truck driver who reaches them in no time.
3. Invest in your website and owned media
Investing in a website that is professional, fast, and easy-to-use is crucial. Oftentimes the first touch point, you'll want to optimise your website to reduce bounce rates and get your message to your customers quickly.
This means a modern design, quick-loading pages, and a strong UX (user experience) and UI (user interface). Losing your audience's interest or frustrating them with difficult navigation will result in high bounce rates and lost opportunities.
The same goes for your blog, social media, and personal branding sites. Make sure to keep the look and feel, tone and messaging consistent.
4. Analyse your search engine results
Keep on top of what consumers (and employees) are saying about your brand. Are they writing reviews? Are they negative or positive? Is your page ranked poorly on sites such as Trustpilot, Glassdoor, or Tripadvisor?
You'll also want to monitor press and media so you can share positive mentions in your own media channels, and work to counteract the negative ones (we'll get into that later).
A simple Google search will give you a bulk of this insight. There are tons of free tools that can help you better monitor your company's search results, such as Google Alerts.
5. Communicate with your community
You've already spent time and resources studying your customers, so it only makes sense to interact with them.
Respond to comments (both positive and negative) on social media, review sites and other channels of communication to show clients that their feedback is important.
When you look at a company's TripAdvisor page, who do you trust more: those who ignore (or even worse, attack) customers leaving negative reviews, or those who respond sincerely, vowing to use that feedback as a means to improve their service?
If you are being negatively affected by poor reviews, you may want to consider a review management service to help you generate and increase the visibility of organic positive reviews.
6. Create valuable content
Curating a consistent stream of valuable content is what draws your customers in and keeps them there.
The creation and distribution of whitepapers, infographics, how-to guides, thought-leadership pieces, and blog posts show your audience that your ultimate goal is to provide them with value and is a must when creating a positive brand image.
This process is time-consuming but necessary. On the bright side, this content can be repurposed and will drive your marketing and digital marketing activities and PR efforts. There are plenty of agencies offering content marketing services if your resources are limited.
7. Make public relations a priority
You want to get your key message and company updates published on the most relevant news outlets, blogs, and industry publications.
You can leverage the type of content discussed above for this. Journalists are swamped with company pitches day and night. The only way to get their attention is with a newsworthy piece of content that will be of interest to their readership/followers.
You should take the time to research and follow important journalists, reviewers, and influencers in your niche. This is a great way to follow market trends and get familiar with the types of content they like to share so you can yield a better chance of getting your pitches noticed.
8. Invest in SEO (Search Engine Optimisation) 
SEO is used to increase the quality and quantity of traffic to your website, improving your brand's ranking in search engines such as Google or Bing.
Did you know that Google alone receives over 5.4 billion searches a day?
Featuring on the first page of Google for potential customers can make the difference between a thriving business and a bankrupt one.
To best leverage SEO, you must rank well for specific keywords and phrases that your target audience is searching for. With Google's algorithms constantly changing, this can be a challenge. If you don't have an in-house expert, there are plenty of digital marketing agencies who can provide SEO services.
9. Provide excellent customer service
Providing quality customer service at every single touch point in the customer journey is essential for you to maintain a positive brand image.
Make sure that you are equipped with the tools and channels needed to best serve your clients in a timely and efficient manner. There are plenty of effective tools for companies both small and large to use when addressing customer needs, such as help desk and ticket software, live chat services and AI-powered chatbots.
10. Address crises properly
Did you know that negative press can cost you up to 22% of potential customers?
Whether it's a negative review online, unfavourable press coverage or an attack from a competitor, adverse press can turn a positive brand image to a negative one in the blink of an eye.
When facing a PR crisis, it's important to keep calm and be proactive.
If you've made a slip up, own up to it with honesty. Apologising, taking accountability and keeping consistent communication with your stakeholders is key when trying to maintain a strong brand image. Make it clear that you understand the situation, where you went wrong, and what you will do going forward.
If you're finding it difficult to dig yourself out of a hole that negative press has put you in, reach out to a PR agency who provides reputation recovery services to give you a hand.
Creating and maintaining a positive brand image isn't easy, but setting a strategy in place using the above framework is a great starting point. If you need help building your own brand image or are dealing with negative press, contact us to help you take control of your online reputation.
News and tips like these,
straight to your inbox.