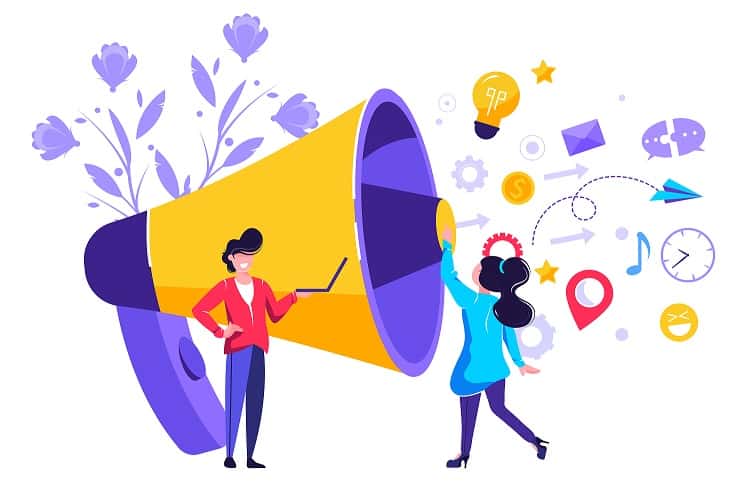 Today more than ever, consumers rely on online reviews and press coverage generated via Digital PR to evaluate a brand's products or services before purchasing them. Technical SEO, the set of tools that enables you to tweak your website to rank higher in Google results (SERPs), is indispensable and important as a foundation for your brand to be visible online. However, with growing competition, more brands are understanding the importance of having a strong online presence on third-party platforms. Technical SEO alone is not nearly enough.
Digital PR (or Performance PR) and content marketing have become the key to increasing consumers' awareness of a brand.
What is Digital PR exactly?
Digital PR is a strategy used to increase your brand's visibility online. It is quite similar to traditional PR, but it also combines web-based strategies such as SEO, content marketing, influencer collaborations and social media marketing.
When talking about Digital PR, the creation of links (e.g. backlinks) is the first thing that comes to mind. Simply put, your site ranking improves as other relevant websites (the more reputable, the better), include links to it because of interesting content you've created.
One way of doing this is by means of your company blog, where you can create and place news-worthy campaigns that are less branded than your corporate site. The less branded a content campaign is (and the more interesting, of course), the higher the chances a site will link back to it.
Google rankings are crucial to a site's visibility (and a company's revenue, especially if you sell online). According to research by Moz, only 7% of people click past the first page of Google results and, even more relevant to digital PR, 72% of people either only click on organic results, or rarely click on paid results. 
Links are really important when you're thinking about how to do digital PR for your business. However, when talking about digital PR, we like to talk about 'performance' digital PR.
A good PR strategy will increase the volume and quality of backlinks earned by your site. In addition, an effective PR campaign will focus on the quality of your message and a well executed brand campaign, increasing your brand awareness and website strength.
What are the various types of
PR strategies?
• Publishing articles, research, reports or whitepapers and outreach them to relevant third-parties to gain high-quality backlinks
• Building strong relationships with journalists of online publications
• Networking and gaining coverage from reputable bloggers (to boost backlinks!)
• Distributing press releases to flag interesting events and news related to your service and products
• Adopting influencer and affiliate marketing to bring additional customers to your site through increased visibility and strategic partnerships
Online PR can be even more impactful when coupled with corporate publicity events that target journalists, influencers and bloggers, with the objective of increasing online visibility.
How do you set KPIs for a digital PR campaign? 
Digital PR has a strong advantage compared to traditional PR: it is easier to measure its performance and set KPIs against it.
If traditional PR talks about reach and circulation, digital PR can bring hard numbers related to ranking, backlinks, organic traffic and referring quality domains. Therefore:
What can a digital PR campaign deliver?
• Increased organic traffic
• Increased conversions (and therefore sales)
• Engagement and shares
• A stronger brand presence and trust through reputable mentions and coverage
• An increase in your website's authority through links
Measuring the success of digital PR
The most visible impact of digital PR is going to be an improvement in rankings and consequential increase in traffic. This is obtained by creating links that help push up your site in Google's search engine results. A well executed digital PR campaign will improve your backlink profile, which will in turn improve your domain ranking (measured on a logarithmic scale from 0 to 100).
Volume, quality and relevance (of the links created) will be the 3 key elements that will determine the success of your digital PR campaigns.
What are the KPIs for digital PR? 
1) Domain strength: the higher your website authority, the higher up you'll rank in Google search results. This will directly link to increased traffic coming to your website and therefore conversion and sales. A few good tools to measure your site's authority are Domain Rank from ahrefs, TrustFlow and CitationFlow from MajesticSEO and Domain Authority from MOZ.
2) Web page rankings: linked to the first KPI point, web page ranking (where you host your campaign) is a direct consequence of a quality backlink profile generated through Digital PR outreach. And, if you've correctly linked this to product and service pages, you'll be able to see SEO benefits passed down to these sections of your site.
3) Quality mentions in reputable publications: quality digital PR is not about volume of coverage, but also ensuring that the publications linking to your site are in line with your main brand strategy. Relevancy is one of Google's top priorities, and if you tick the relevancy box, your Digital PR campaigns are spot on!
News and tips like these,
straight to your inbox.