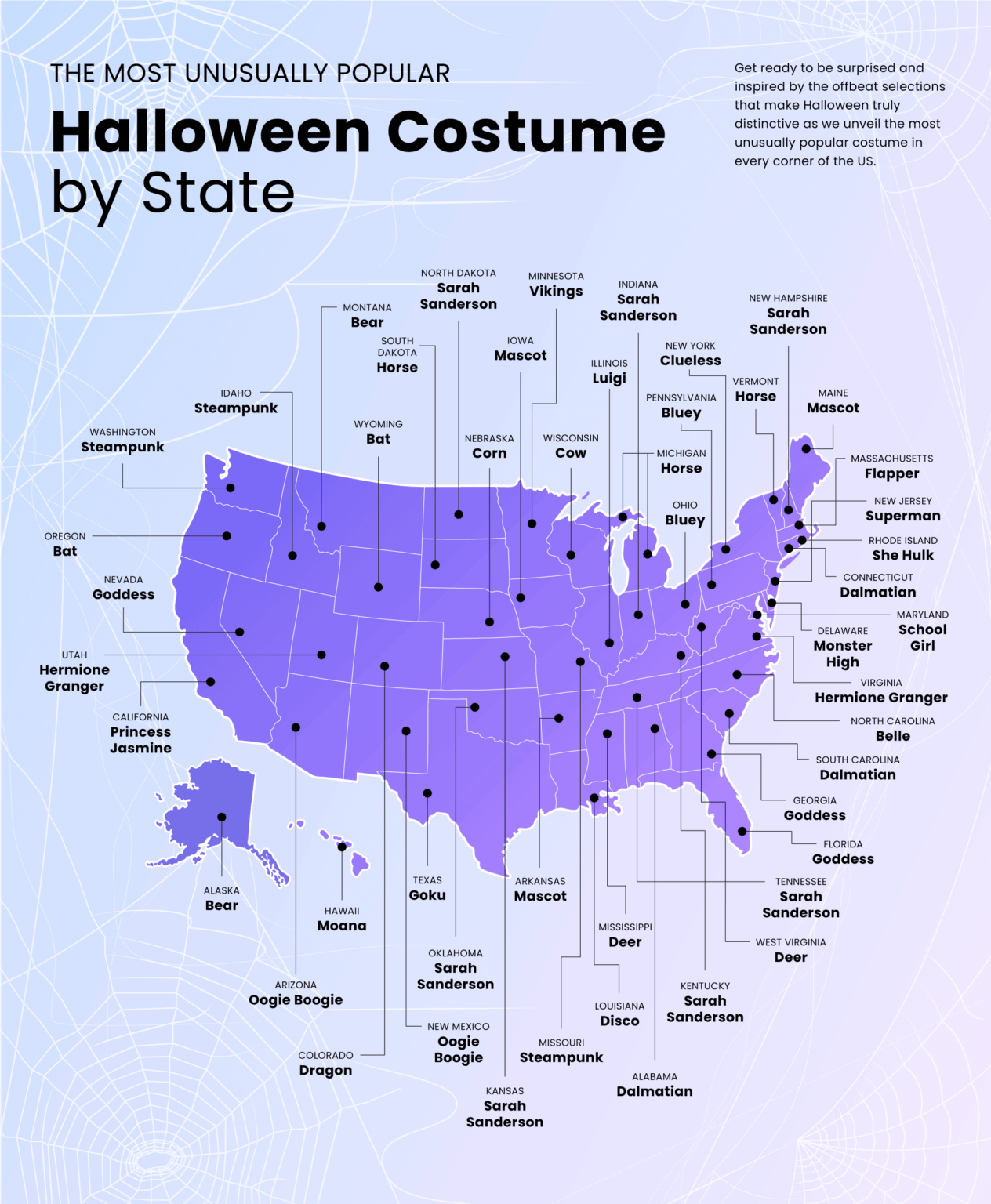 On the one day of the year you can don any costume and be anything you want to be – what would you choose? Here's some inspiration from America's 2023 Halloween costume trends:
Vermont is home to the most unusually popular Halloween costume choice – the Horse costume ranks 13th in the state compared to a national ranking of 134th.
Unsurprisingly, the Barbie costume is trending across the states this year especially in the West where every single state features Barbie as one of their top trending Halloween costumes. Ken is completely overshadowed, trending only in Idaho and Dakota.
Poison Ivy, Catwoman and Spider-Man costumes are the most popular to buy, while crafty folk are willing to give 1980s, 1970s and Teacher costumes a go, opting for DIY.
Care Bears take the top spot for emerging costume trends for 2024, followed by Prisoner and Chucky costumes.
In a world where pumpkin spice lattes and falling leaves herald the arrival of Halloween, it's no secret that this holiday season captures the collective imagination of an entire nation.
With this in mind, we unravel the weird and wonderful Halloween costume preferences from across the United States. But here's the twist: rather than focus on the predictably popular costumes, we set out on a quest to uncover those costumes that may not reign supreme nationwide but have claimed a special place in the heart of specific states.
With every retail and e-commerce brand in the nation boosting marketing & PR efforts to increase visibility with customers, seasonal sales and get a bigger share of the pie ahead of year end, we set out to gather Google search data at the state level, examining the interest and demand for the 200 most popular Halloween costumes in the US, according to the 2022 Frightgeist. By calculating the difference between each state's ranking and the national ranking, we have pinpointed those costumes with the most substantial disparities in popularity. These are the hidden gems of Halloween attire, the choices that make each state's celebration unique and vibrant.
The Northeast's Eerie Elegance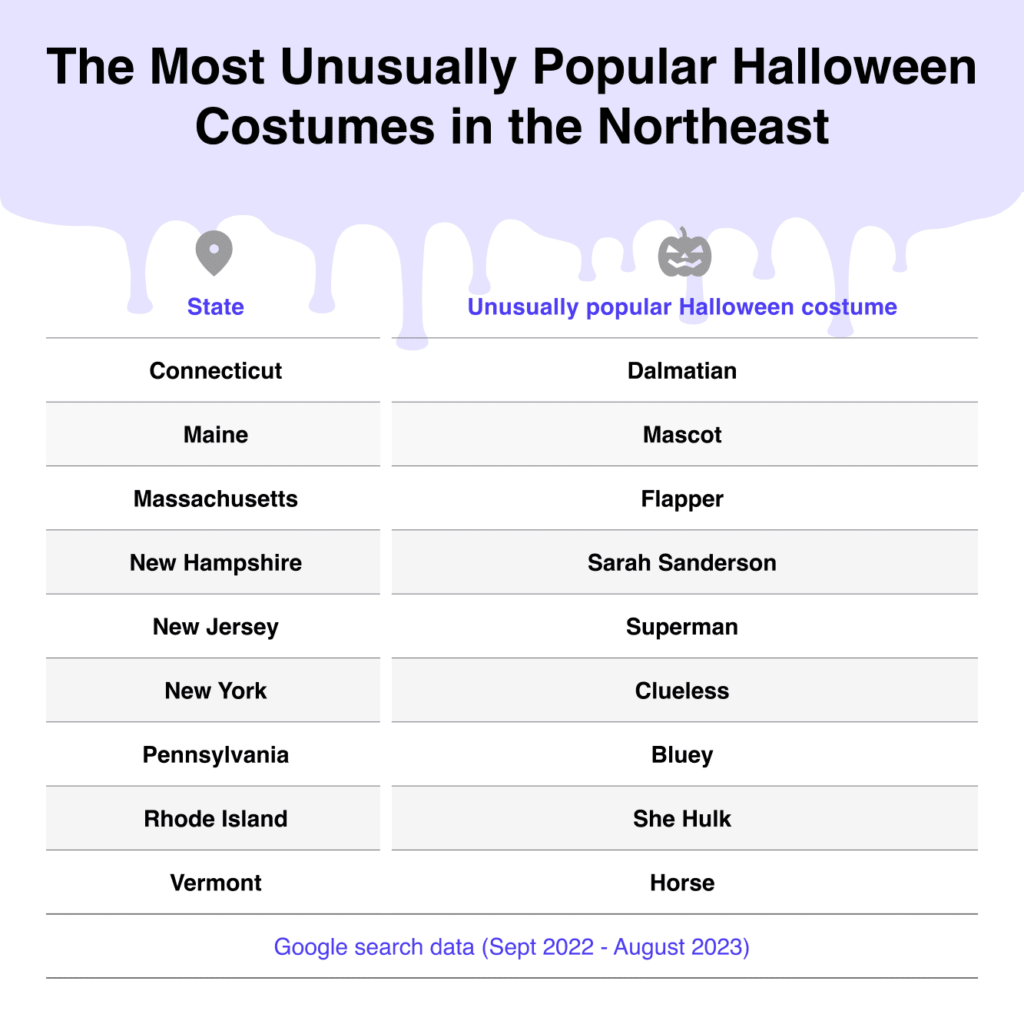 From state symbols to historical connections, and even a touch of thrill-seeking spirit, the states of the Northeast have some truly unique costume choices to offer.
Maine: Bananas T. Bear – A Century-Long Tradition
In the heart of Maine, one costume reigns supreme, and it's a choice deeply embedded in local history. With 'Mascot' as their unusually popular choice, we can only assume one thing…..Meet Bananas T. Bear, the University of Maine's beloved mascot for over a century! This lovable bear has captured the hearts of Mainers for generations, and it's no surprise that it makes an appearance as an unusually popular choice for Halloween, ranking 94 places higher than it does nationally.
Vermont: The Noble Morgan Horse
Vermont, known for its picturesque landscapes and equestrian culture, boasts the Morgan Horse as its official state animal. With an apparent deep-rooted love for these animals, the Horse costume almost makes the top 10 in the Green Mountain State, ranking 13th place in popularity compared with a mere 134th in the nation. This difference in popularity (121) makes the horse costume in Vermont the most unusually popular Halloween costume of them all.
New Jersey: Superman's Soaring Influence
In the adrenaline-pumping state of New Jersey, where thrill-seekers find their haven, there's a costume choice that soars above the rest. Ranking 37 places higher than it does nationally, fans of the Superman: Ultimate Flight rollercoaster at Six Flags Great Adventure, may just have made the iconic superhero costume an unusually popular pick.
Trend-Setting Costume Inspiration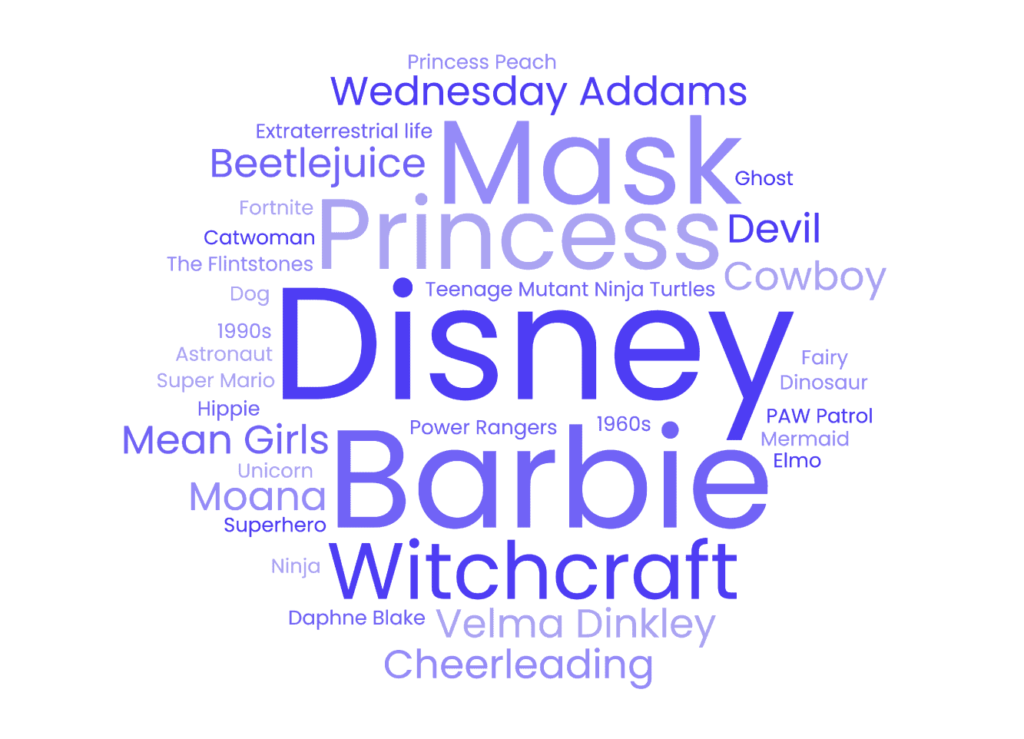 This Halloween season, the Northeastern states are also setting trends and making statements with their costume choices. Let's take a peek at the current choices dominating the region and explore the intriguing themes behind these trending picks.
Nostalgia of Decades: The 1960s and 1990s are making a comeback this Halloween season. Northeasterners are embracing the fashion and culture of these iconic decades, with costumes ranging from groovy hippies to characters reminiscent of the '90s pop culture, there's plenty to choose from.
Mystery & Enigma: Mystical elements like witchcraft, extraterrestrial life, and masked characters are intriguing choices. They add an element of secrecy and surprise to Halloween celebrations, allowing people to embrace their mysterious side.
The Midwest's Marvelous Masquerades
From iconic sports mascots to mysterious affinities with fictional characters, the diverse spirit of the American Midwest gives rise to some truly unique Halloween costume choices.
Minnesota: Embracing Viking Roots
Minnesota, with its rich Scandinavian American culture, pays homage to its roots through not just its football team – The Minnesota Vikings – but its choice of Halloween attire too. Making it into the state's top 30 – 46 places higher than it is nationally – the unusually popular Viking costume isn't just a costume; it's a celebration of Minnesota's cultural identity.
Nebraska: Corn, the Pride of the Plains
In 2022 alone, Nebraska yielded an astonishing 1.4 billion bushels of corn, a significant part of the state's economy. Beyond supporting their football team, The Nebraska Cornhuskers, Nebraskans have found another way to celebrate their agricultural pride – by dressing up as corn for Halloween! Ranking 47 places higher than it does nationally, it's a playful nod to the heartland's agricultural heritage and the vital role corn plays in the state's economy.
Wisconsin: Honoring Dairy Heritage
Wisconsin's love for dairy is legendary, with a proud heritage of dairy farmers spanning nearly two centuries. The state takes milk production seriously, they even nurture record-breaking cows. So, what better way to celebrate Halloween than by dressing as a cow? It's a humorous and heartwarming tribute to Wisconsin's dairy heritage and its enduring commitment to all things cheese and milk and puts this costume choice in 57th place compared to 99th nationally.
Trend-Setting Costume Inspiration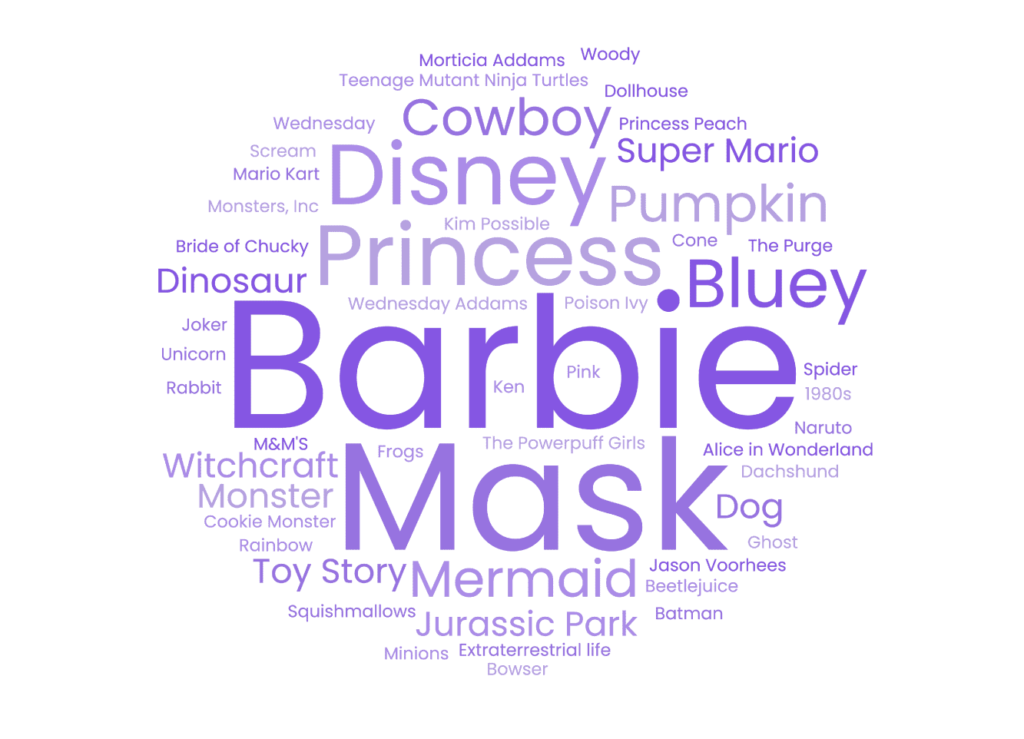 The Midwest of the United States is ablaze with Halloween spirit, and its costume choices are no exception. Let's delve into the region's trend setting costumes, uncovering the exciting themes and influences that are shaping Halloween fashion this year.
Timeless Elegance: Princesses have always held a special place in our hearts, and this year, they are reigning supreme in the Midwest. From classic princesses to modern heroines like Kim Possible, the allure of royalty is undeniable.
Colorful Creations: Vibrant costumes like rainbows, Minions and M&M's bring a burst of color to Midwest Halloween celebrations. They add a touch of whimsy and playfulness to the season.
The South's Enchanted Elegance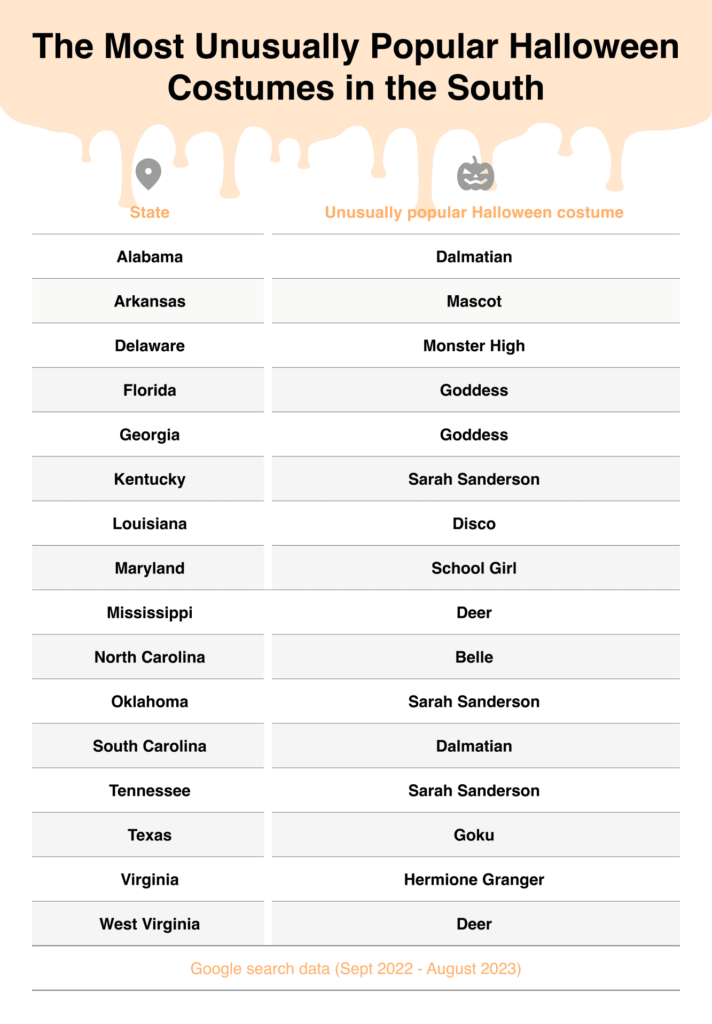 From pride in sports mascots to an undeniable affinity for music and the great outdoors, the Southern states reveal their unique character through their Halloween attire.
Louisiana: Ready for a Party, Anytime
In the vibrant state of Louisiana, where music fills the streets and celebrations are a way of life, it's no wonder that Halloween costumes reflect the party spirit, with D-I-S-C-O being a uniquely popular choice. Louisianans love to dress up, ready for a celebration at any moment and this puts the Disco costume a whopping 80 places up the ranking from where it sits nationally. Whether it's a festive Mardi Gras mask or a costume that sparkles with the spirit of New Orleans, Louisiana knows how to bring the party to Halloween.
Mississippi: Embracing the Great Outdoors
With an estimated population of 1.75 million deer and the beginning of hunting season coinciding with Halloween, Mississippians have a truly unusual and daring costume choice! In comparison to the rest of the US where the deer costume sits in 146th place, many residents choose to don deer-themed costumes, celebrating their love for the great outdoors and the traditions that go hand in hand with it, pushing this costume into 88th position.
Trend-Setting Costume Inspiration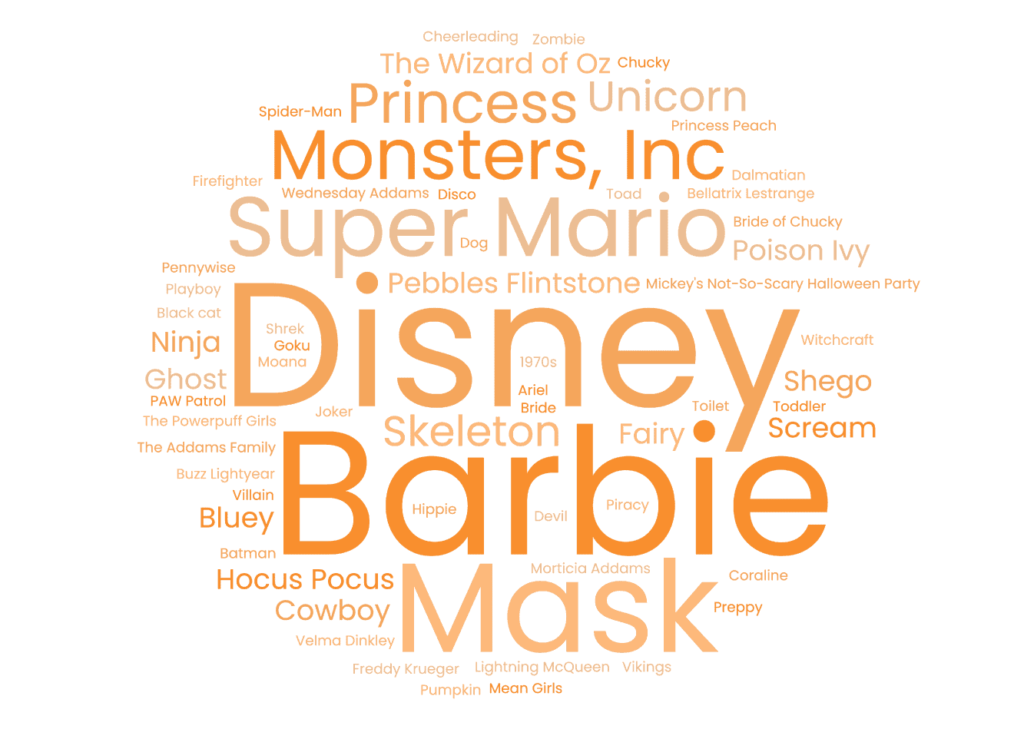 The South of the United States is ablaze with Halloween spirit, and its costume choices are nothing short of spectacular. Let's delve into the region's trendiest costumes, unveiling the exciting themes and influences that are shaping Halloween fashion this year.
Disney Delight: Disney magic continues to captivate the hearts of Southerners. From classic Disney characters to more recent favorites like Moana and characters from "Monsters, Inc.," the South is enchanted by the world of Disney.
Whimsical Fantasy: Fairies, unicorns, and the magical world of "Harry Potter" are casting their spells in Southern Halloween celebrations. It's a tribute to the enchanting and whimsical side of fantasy.
The West's Wicked Wardrobe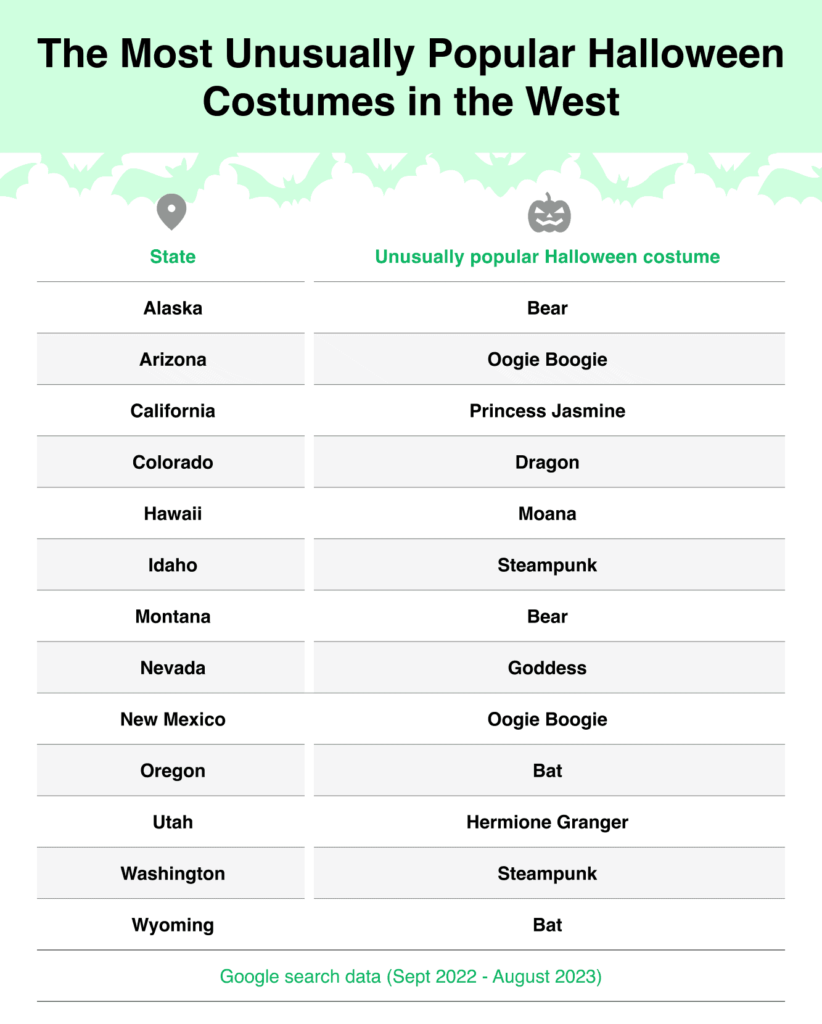 From a shared love for wildlife to a deep connection with fictional characters, and a celebration of rich cultural influences, the Western states have a flair for the extraordinary in their costume preferences.
Alaska and Montana: Bear-ly Believable Choices
In Alaska and Montana, residents have a knack for embracing the wild side of Halloween. Their unusually popular costume choice? The bear! In these rugged states where the wilderness is at their doorstep, it seems like a fitting tribute to the majestic creatures that roam free. If you can't beat 'em, join 'em, as they say, and what better way to do so than by dressing up as one of the kings of the forest?
Hawaii: Honoring Polynesian Roots
Hawaii, a state rich in Polynesian culture and traditions, celebrates its heritage not just during luaus but also during Halloween. The influence of the Polynesian islands, such as Moana's fictional island, in the film "Moana" is undeniable. It's no surprise that Hawaiians choose to honor this cultural connection through their Halloween costume choices. Embracing the spirit of adventure and exploration puts the Moana costume 69 places higher than its national popularity rating.
Oregon and Wyoming: Bats in the Night
It would seem that Oregon and Wyoming take a cue from their natural surroundings when it comes to Halloween costumes. Oregon, home to 15 species of bats, celebrates these fascinating creatures with bat-themed costumes. In Wyoming, where a new species of bat was recently discovered from ancient fossils, the oldest ever found, residents are equally inspired by these nocturnal creatures. Ranking 50 places higher in Oregon and 73 in Wyoming, these costumes are a tribute to the enduring allure of the night and the mysteries it holds.
Trend-Setting Costume Inspiration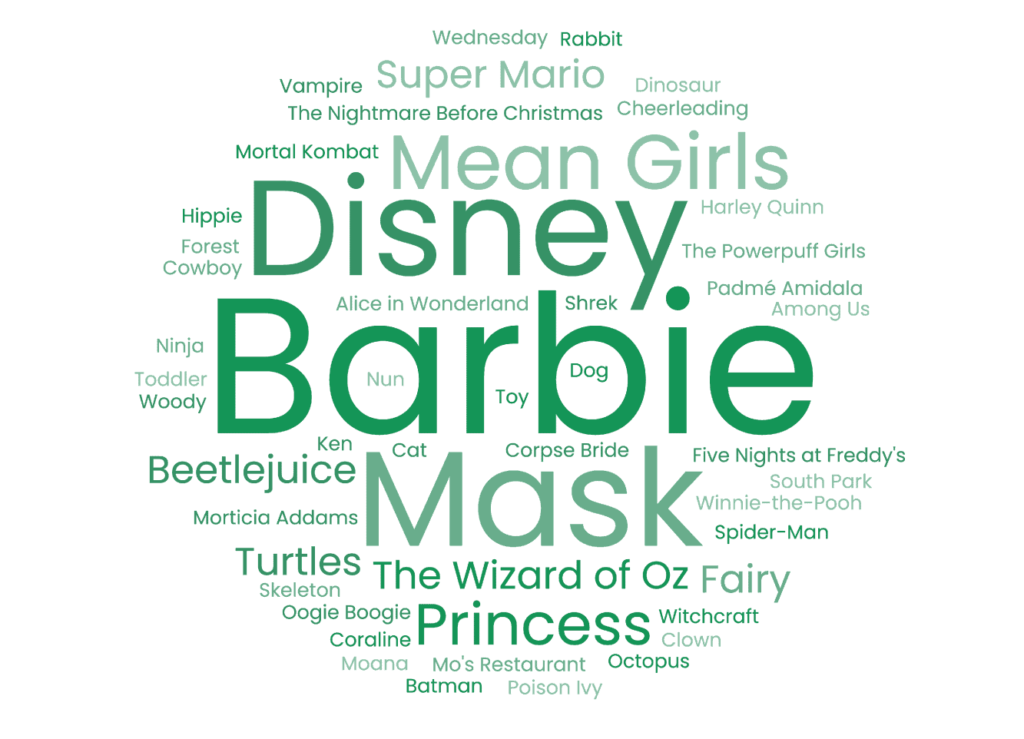 The Western United States is brimming with Halloween excitement, and its costume choices are a testament to its creativity and diversity. Let's explore the region's trendiest costumes, uncovering the fascinating themes and influences that are shaping Halloween fashion this year.
Barbie mania: The blockbuster film has certainly made an impression on the West, being the only region with every single state to feature Barbie as one of their top trending Halloween costumes this year. Although Ken is also a trending costume here, the only state (other than South Dakota in the Midwest) seeking 'Kenergy' in their Halloween costumes is Idaho.
The influence of this megahit comes as no surprise to Jessica Kats, E-commerce and Retail Expert at Soxy, who comments:
Video Game Extravaganza: "Among Us" and "Five Nights at Freddy's" have made a big splash in the West. Video game characters are stepping off the screen and into the Halloween festivities, reflecting the region's love for gaming culture.
Shoppers vs. Crafters: Halloween's Most Popular Costumes for Buying and DIYing
Halloween is the season of transformation when people unleash their creativity through costumes. Some prefer the convenience of store-bought outfits, while others embrace the challenge of DIY crafting.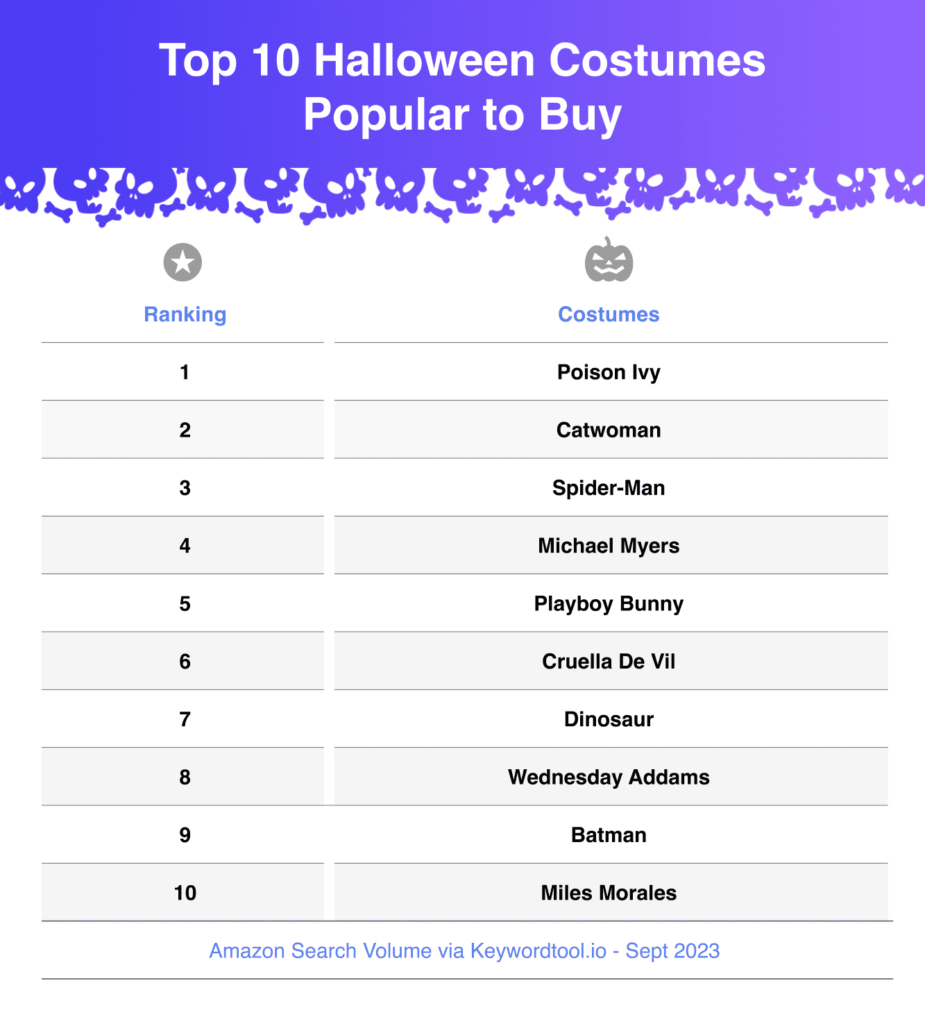 The top 10 costumes most popular to buy feature well-known characters from movies, comics, or popular culture. They require intricate designs, unique accessories, or specific materials that can be challenging to replicate at home. As a result, many Halloween enthusiasts prefer to purchase these professionally crafted outfits to ensure a high-quality, authentic appearance.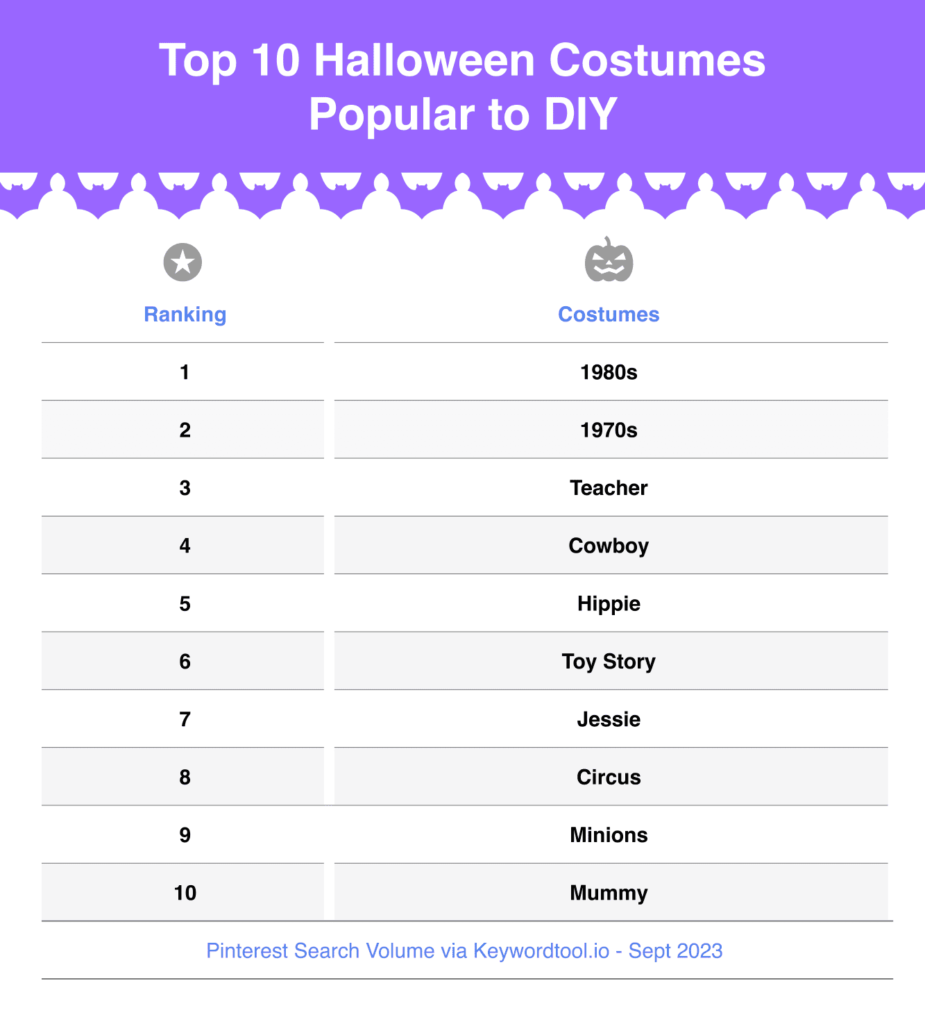 One noticeable trend in these DIY-friendly costumes is that they often lack specific branding or copyrighted characters. Instead, they encompass broader themes, time periods, or generic concepts that allow crafters to use everyday materials or repurpose clothing items to achieve the desired look. According to Elise:
This stark difference between the two lists highlights the appeal of branded costumes for those who prefer the convenience of store-bought options and the allure of non-branded, theme-based costumes for crafters seeking a hands-on Halloween experience. Whether you're a shopper or a crafter, get ready to join the festivities and make this Halloween truly spook-tacular!
Rising Stars: Costumes Set to Shine in Halloween 2024
As Halloween enthusiasts gear up for the upcoming spooky season, it's essential to stay ahead of the curve when it comes to costume trends. A cyclical analysis of Google Trends data has unveiled a promising forecast for emerging costume trends for 2024.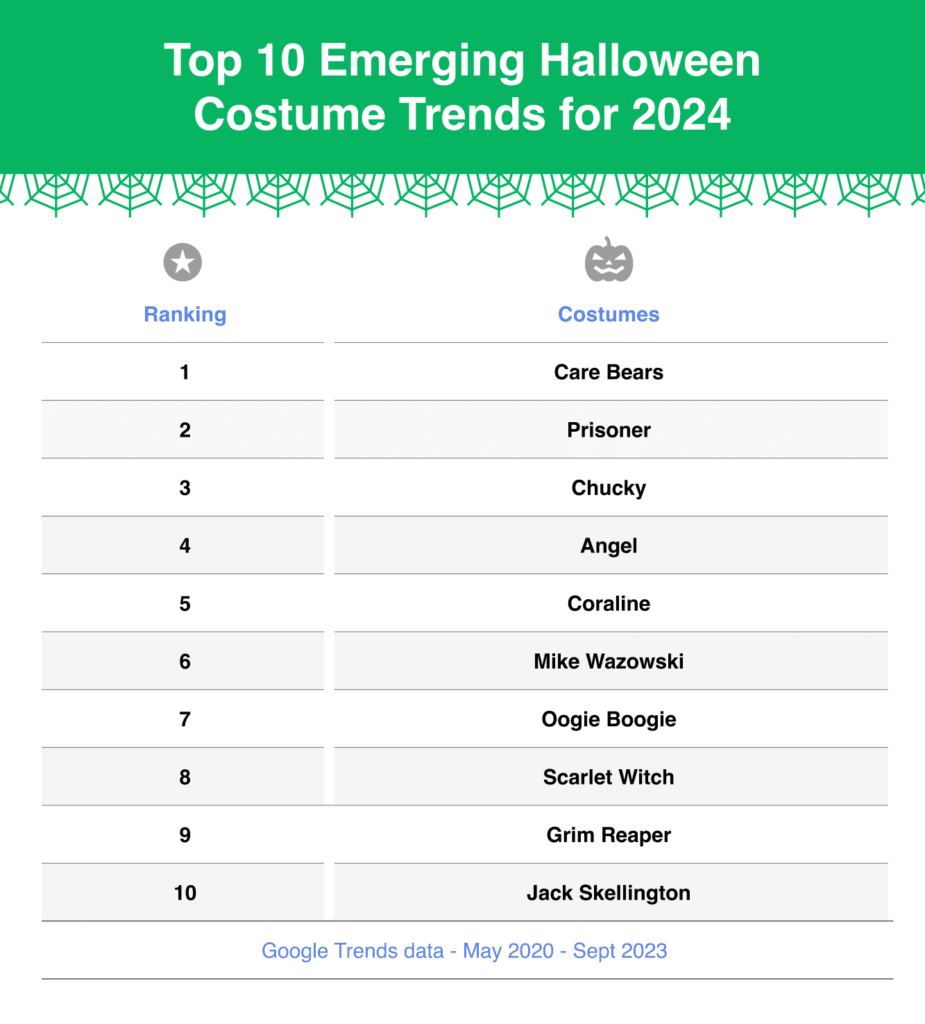 While each costume on this list brings its unique flair, several overarching themes emerge from this eclectic mix of characters and concepts.
Nostalgia Reimagined: With costumes like Care Bears and Chucky making an appearance on the list, this signals a resurgence of nostalgia-driven costume choices. These beloved characters from the past are getting a fresh lease of life, appealing not only to those who cherished them in their childhoods but also to new generations of fans.
Pop Culture Influence: The influence of pop culture is evident with Scarlet Witch from the Marvel Cinematic Universe and Coraline, a character from the acclaimed Neil Gaiman novella, making the cut. Pop culture continues to shape our Halloween choices, with fans eager to pay tribute to their favorite characters from movies, TV shows, and books.
Classic Icons: Prisoner, Angel and Grim Reaper represent a classic yet reimagined approach to Halloween costumes. These timeless icons are getting a modern twist, offering a fresh perspective on traditional Halloween themes. The reinterpretation of these classics ensures that they remain relevant and appealing year after year.
While these trends are expected to dominate Halloween 2024, it's worth noting that the world of costumes is as diverse as it is dynamic. Costume preferences can vary widely, and individual creativity knows no bounds. As Jessica from Soxy explains:
As we look forward to the spookiest night of the year, these emerging trends offer a glimpse into the exciting and ever-evolving world of Halloween costumes.
Methodology

The Halloween costumes included in the research were taken from Google's Frightgeist 2022.
Google search data was collected at the state level from the past year (September 2022 – August 2023) for each of the costumes listed.
The costumes were ranked by search volume at the state level as well as nationally.
We calculated the difference between the state ranking and the national ranking for each costume to identify those with the largest difference – the most unusually popular costumes in each state.
In cases where there was more than one costume tied for unusually popular based on rank difference, we used Google Trends to determine which of the costumes was the most unusually popular in the state.
We also used Google Trends to find the most frequently searched Halloween costume terms in each state (between 15/08/2023 – 22/08/2023), identifying current trends for this year's Halloween costumes in every region.
Using Keywordtool.io, we collected Amazon search volumes for each costume in order to rank them according to their popularity for purchase. In order to rank them in terms of their popularity as a DIY costume, Pinterest search volumes were collected for the following terms: [costume] + diy, [costume] + ideas and [costume] + how to.
We used a special cyclical analysis method that looks at patterns in Google Trends data to predict which costumes might be the most popular for Halloween in 2024.
You can download the full dataset here.
News and tips like these,
straight to your inbox.