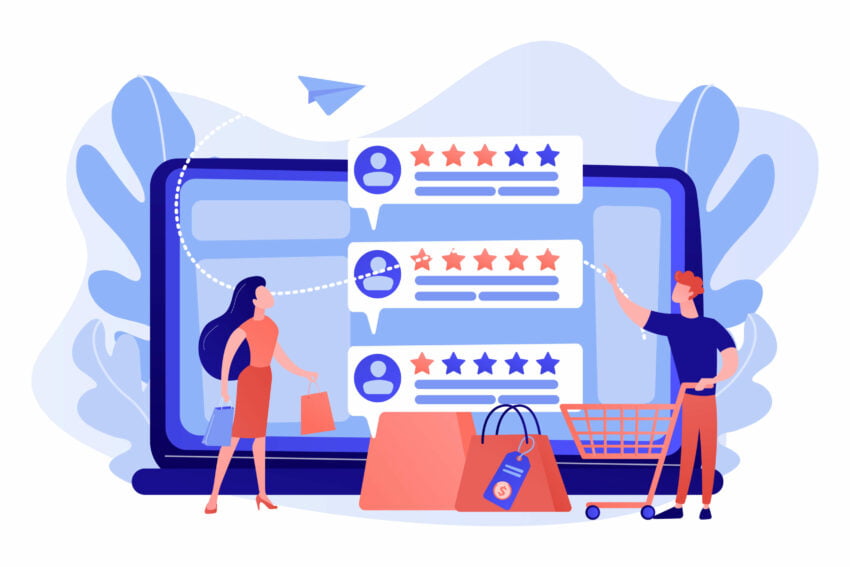 In today's digitally-charged world, online reviews can make or break a brand.
Online powerhouses such as Google are oftentimes the first place potential buyers go to dig up more information on a specific product or business, and seeing negative reviews can deter them from buying from a particular brand. Understanding the impact reviews have on a business' success, we wrote a blog explaining how to remove bad Google reviews of your brand.
But Google isn't the only place reviews make a statement.
Shipping over 1.6 million packages a day, with roughly 66 thousand orders being made per hour, Amazon has become the go-to destination for online shopping and product reviews around the world.
In this blog you'll learn the following:
The impact of reviews on Amazon
How to avoid negative reviews
What not to do when you receive a negative review
How to remove bad reviews on Amazon
The Impact of Online Reviews
According to a study by Invesp, 88% of customers trust online reviews as much as personal recommendations. Even more jarring is that 72% of respondents surveyed said they would take action only after reading a positive review, while 86% said they would hesitate to purchase from a business that has negative online reviews.
Customer feedback has a massive impact on the success (or failure) of your Amazon business and have a huge influence on the buying decision of your potential customers.
Let's take a look at the effects of both positive and negative reviews.
How Positive Reviews Affect Your Business
Positive Amazon product reviews can have a huge impact on your business in a number of ways.
First off, reading a positive review can move a potential customer from mere interest into action (purchase), which directly impacts your revenue.
Positive reviews can also help you reach the top of Amazon's organic search results. More positive reviews make your product more relevant which increases visibility and authority, thus having better chances of getting ranked. This is especially important if you have a lot of competitors selling similar products.
A trend of positive reviews can also be rewarded with a feature in Amazon's coveted "Amazon's Choice" and "Buy Box" features. Amazon rewards positive reviews and puts special effort in sharing the best-rated products and sellers to its users.
How Negative Reviews Affect Your Business
A negative review, typically considered to be any review with 1 to 3 stars, can deter potential customers from a purchase and have a direct impact on
Unfortunately, even if a product receives a ton of stellar reviews, customers will typically scroll straight to the negative reviews to read them in detail, looking for any potential problems that could arise with the product or seller.
Aside from having a direct impact on your revenue, negative reviews also play a big role in the visibility of your product. Just as positive reviews help to boost visibility and authority in search, negative ones have the adverse effect and can push you back in rankings.
That said, a negative review isn't the end of the world.
If you get a negative review, don't panic. Use this as a learning opportunity to improve your product and customer service to turn an unhappy customer into a brand ambassador.
How to Avoid Negative Reviews on Amazon
As an Amazon seller, your main goal should be to generate positive feedback and avoid negative reviews altogether. How can you do this?
First and foremost, a great product.
We can't exactly give you insight on how to do this, but we can say with confidence that a great product is the first step in satisfying any customer.
Secondly, an accurate and detailed product description.
Your Amazon listing gives you plenty of space to describe your product in detail and to highlight any extra features or benefits. You can also be proactive and address potential issues that you foresee customers having with your product to help them avoid future headache.
Thirdly, top notch customer service.
The customer is king, and they expect to be treated as such. Make sure you make the buying experience as smooth as possible and responding to any complaints, messages, or queries promptly and politely.
Now, even if you follow the above steps, it's still likely that at some point you will come across a disgruntled customer who leaves you a bad review.
Let's dive into what not to do when this happens.
What NOT to Do When You Receive a Negative Review
Amazon has a strict policy when it comes to sellers trying to rectify negative reviews.
To stay out of trouble with Amazon (and buyer's), here's a list of what to avoid doing:
Ask a buyer to remove or change a review
Offer a refund or other compensation to a customer to change or edit a review
Contact the buyer outside of the Amazon platform
Reply with a nasty/unprofessional comment attacking the buyer
Offer coupons/discounts/money in exchange for a positive review
Find friends/family to write false positive reviews to offset the negative
Encourage others to write falso negative reviews of competitor's products
If caught doing any of the above, you risk your account being shut down, the freezing of your funds, or even legal action. You can read through a complete list of no-no's on Amazon's Customer Product Reviews Policies page.
Now that we've covered the impact reviews have on your business, how to avoid a negative review, and what not to do when you receive one, let's go over the steps to get them removed.
How to Remove Bad Reviews on Amazon
Find out what makes a review eligible for removal
First of all, keep in mind that getting a negative review removed by Amazon is not easy, and in fact, highly unlikely, unless the review explicitly breaks one of the above rules.
Amazon values its buyers' opinions and wants them to review products truthfully. Just because a review is negative and rubs you the wrong way doesn't mean Amazon will consider removal just because it's hurting your business.
That said, Amazon has a comprehensive set of Community Guidelines that details what is and isn't allowed when posting reviews or comments on product pages. If a buyer leaves a review that falls under any of these categories, then their review is eligible to be removed at the seller's request.
Here are just some of the actions that are eligible for removal:
A review is about the seller or anything else that is not the product
Comments made comparing pricing, product availability, or alternate ordering options
Reviews that include comments that are defamatory, libelous, harassing, threatening or inflammatory
Pornographic, obscene, sexually explicit or lewd content
Comments revealing personal information such as phone numbers or email addresses
Product promotions and outward links
Request for compensation in exchange for a positive review
Several negative reviews of the same product by one buyer
If a review violates any of the Community Guidelines, you can request Amazon to remove it.
Request removal of a review
Requesting to remove a review is fairly simple, and can be done in two ways (we recommend doing both): reporting abuse and reaching out to Seller Support via email.
Report abuse
To report abuse, simply go to the product details page of your product, find the review in question, and click the button "report abuse" at the bottom of the review. A pop-up window will appear giving you the option to click "Report".
Contact Seller Support
This option gives you more room to build a case against the review(s) you want removed.
You can send an email to [email protected] indicating the ASIN (Amazon Standard Identification Number) of your product, the date and time of the review, the reviewer's username, and a link to the review itself. It's best if you can also point out what review guidelines the buyer violates in you email.
Remember, there's no guarantee that Amazon will remove the review or how long it will take if your request is approved, so no need to panic or obsessively check the status of your request.
While you're waiting for removal, or if your removal request was denied, there are still some actions you can take to counteract the negative.
Comment publicly
The first thing you should do when receiving a negative review (whether it can be removed or not) is comment publicly on the review itself.
Leaving a comment is easy: Simply find the review in question and click "Add a comment". When commenting on the review, remember to keep it polite, friendly and professional. Here are some tips:
Don't get defensive or attack customers.
Provide your perspective on the issue.
Describe how you tried to solve their problem or what you are doing to prevent it from happening again.
Be empathetic and show your customer that high quality customer service is your priority.
Ask the reviewer to get in touch with you via the Buyer-Seller-Messaging Service so you can discuss a way to rectify the problem.
Never leave your email address or personal information in a comment, as encouraging off-Amazon contact is against Amazon's terms and conditions.
Don't ask a reviewer to remove their feedback or change their review, and never offer compensation to do so.
Responding to a negative review has some benefits.
A buyer may improve their review or give an update in the description text because you helped them with their problem or showed excellent customer service.
Even if a buyer doesn't change their review, you will provide additional information that future buyers will see.
Lastly, generating more positive reviews is a great way to offset the effect of negative ones.
Get more positive reviews
While generating more positive reviews won't eliminate the negative ones, it can make your product and brand more reputable and trustworthy to potential buyers.
There are no real shortcuts when it comes to positive reviews. What is fundamental is providing an excellent product, a descriptive product page, and stellar customer service.
In addition to this, you can expand awareness of your brand and products. Use social media platforms to increase your customer base and advertise your promotions. You can also run review campaigns where you encourage your customer base to leave reviews after their purchase. If you're truly providing quality products and great customer support, you'll surely receive positive feedback.
Conclusion
Negative Amazon reviews are alway a pain. They can be harmful to your business success and be time-consuming to deal with. Luckily, there are ways to combat them and if done so properly, your customer base will see the value in doing business with you.
Whenever you receive negative feedback, take it as an opportunity to learn. By analysing reviews and seeing your customers' pain points, you can make improvements to your product, product page, or the customer experience. Selling on Amazon gives you access to the largest focus group in the world, so use it to your advantage!
Still suffering from negative reviews?
Be it on Amazon or other review sites, our review management services can help. Get in touch to discover how we can help encourage positive organic reviews of your products or services and optimise your current review pages to increase visibility of your business.
News and tips like these,
straight to your inbox.